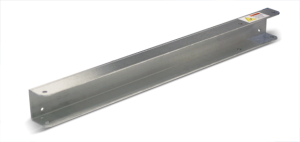 Cables: Connect internally to sign to allow wired communication with PC equipped with SafetyCalm software.
RS-232 communication cable for Smart signs. Requires USB adapter for use on PC with no RS-232 port.
RS-232 communication cable for 15" Smart Sign. Requires PC with RS-232 port
Brackets: Pole-side brackets for expanded, multi-site mobility; 2-bolt design makes removal and installation quick and easy.
9" Smart Sign bracket (015-02331-0000)
9" Value and Portable Sign bracket (015-02985-0000)
12" Sign bracket (015-02991-0000)
SafetyCalm Android App: Feature-rich mobile complement to the SafetyCalm software. Capabilities include fully-featured configuration interface, schedule uploading, speed log downloading, and more.  Compatible with Android devices, including tablets.